Team Dave competed at the historically competitive Waterloo District Event on March 24th and 25th, and piled up enough district points to secure at a spot at the Ontario District Championship!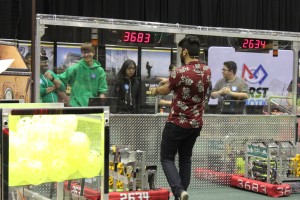 In the first match of the competition, Team Dave once again got off to a strong start, winning 160-145. Throughout qualifications, we recorded the first four-rotor match in Canada with teams 5426 and 4917 (another local team from Elmira, Ontario), and the first match with 4 ranking points match in Canada with teams 4476 and 1114. We also had a few laughs about "spicy ketchup" — the emcee's playful nickname for our drive coach, Rishi. After all 12 qualification matches were done, Team Dave was proud to have seeded fourth, behind only 2056, 1114, and 5912, a serious improvement from our 13th overall seeding at the Durham Event 3 weeks earlier.
Captaining the third alliance, we were very excited to select our local friends 4678 — Cybercavs, from Breslau, Ontario. With our second pick, we happily selected team 4814 — Incubator, from London, Ontario. Due to our skilled human players, we had an ace up our sleeve — a two-rotor auto which gave us a 20 point edge in nearly any situation at the beginning of the teleop period.
The Chairman's team pulled off another successful presentation which essentially smoothed up everything we missed at the Durham event (literally and figuratively, as we applied a little lube to the Chairman's board to make it turn beautifully!).
We entered quarterfinals against the 6th alliance consisting of teams 3161 — Tronic Titans, 4936 — Viral Vortex, and local team 2702 — Rebels. from Kitchener. Our alliance was able to cruise through with two back-to-back wins to make it into the semifinals. Here we met a persistent 2nd alliance of 4525 — Renaissance Robotics, 5912 — Heritage Robotics, and 4903 — Mustangs. Once again, Team Dave was able to move on with two 290+ point matches.
In finals, we met the most successful combination in FIRST history: 2056 — OP Robotics and 1114 — Simbotics. The energy in the stands was incredible after we appeared to win the first match, but unfortunately we were informed that the match would have to be replayed due to a field fault. In this replay, our two-rotor auto was unsuccessful and we dropped the match 330-308. However, we were able to bounce back in the second match, winning 290-334. In the beginning of the tiebreaker match, our alliance's two-rotor auto barely worked, only to have the match fog-horned due to another field fault. During the true final, the two rotor auto failed, both 4678's and our gear mechanisms broke, and we were only 4678 was able to climb. As a result, we lost 398-175.
In addition to the being the finalists, Team Dave also picked up the Industrial Design Award. Plus, driver and student build lead Danny Faryna was named one of the Dean's List semifinalists. We'd like to congratulate 1114, 2056, and 6481 — Deus Ex Machina, for winning the event, as well as 4525 for winning the Chairman's Award.
Team Dave will be competing at the Ontario District Championship in Mississauga, Ontario on April 13th to 15th. If we pull off a good enough showing there, and place in the top 27 overall in the district, we will be headed to the St. Louis World Championship April 27th to 29th.